The whole podcast with Stephen Follows and Chris Jones on successful crowdfunding.
List of points here
List of points here
Meet Stephen Follows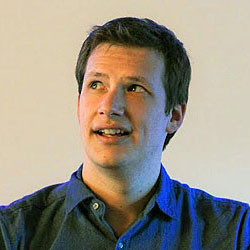 Stephen is a writer and producer based in Ealing Studios and has produced feature films, short films and online film series.
Stephen's writing has been promoted by an eclectic group of people, including industry names (Mike Newell, Stephen Fry, Alison Mack), the press (Daily Telegraph, Le Monde, The Guardian) and others (United Nations, BBC Radio 4, V&A Museum). His writing has won the Virgin Media Shorts prize, been nominated for a British Independent Film Award and long-listed for a BAFTA.
His production work has taken him across Europe, America and even to the Arctic Circle.   His most recent feature film was Baseline, featuring starring Jamie Foreman, Dexter Fletcher, Zoe Tapper and Gary Stretch. His online video work has over 15 million views and some of his films have been officially selected to be a part of the BFI Archive.
Stephen writes regularly about film data and statistics, with his research being featured in The Guardian, The Mirror, New Statesman and the Daily Telegraph.  In the past Stephen has written for Moviescope, was Editor In Chief of 'Short Cuts' magazine, was the Festival Director of the Super Shorts International Film Festival a member of the Executive Committee of the New Producer's Alliance.
Stephen teaches film producing in the UK (NFTS, Met Film School) and around the world (America, France, Finland and Malaysia).
Terms and conditions
If you need to cancel your ticket purchase you can get a full refund up until 30 days prior to the first event. After that we cannot offer refunds. Refunds will be paid back promptly although there will be a 10% admin fee deducted. Alternatively, tickets are transferable to other people if you can find someone to replace you. We are happy to change the name on the ticket. Please allow 48 hours for this change to take place. We reserve the right to decline admission and offer a full refund in such circumstances. We reserve the right to change the venue. We reserve the right to cancel the event and offer a full refund.